Workout Options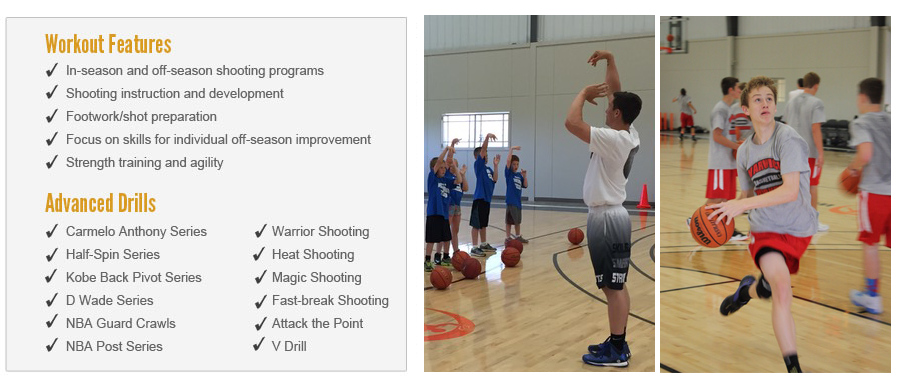 Warwick Workouts camps, clinics and weekly workouts are designed to provide each athlete with a high intensity workout that teaches athletes offensive skill sets to improve their game.

Weekly Workout Options
Advanced Weekly Skill Development Workouts (K-12th Grade Athletes)
Weekly Workouts are the foundation to be coming a skilled basketball player. Athletes of all skill levels will benefit from the intensity and progression of weekly workouts. The foundational skills needed to be a great ball handler, shooter, and scorer are taught and built upon each week. The advanced drills and shooting programs taught in Warwick Workouts will provide an easy transition for each athlete to incorporate into individual or team workouts.

Shooting & Scoring Workouts (6th-12th Grade Ahtletes)
Shooting & Scoring Workouts are a series of workouts focus on shooting technique, footwork, shooting off the dribble, creating your own shot, reading screens and coming off screens as well as finishing at the rim These workouts will assist athletes to become a more effective shooter and scorer.

30/30/30 Competition Workouts (4th-12th Grade Athletes)
30 minutes of skills, 30 minutes of drils, and 30 minutes of competition. This workout series focuses on skill development work needed to be a great ball handler, shooter, and scorer. Throughout this workout, drills will incorporate skills and competitive play situations in 1 on 1, 2 on 2, 3 on 3 and 5 on 5.

Combo Workouts (3rd-12th Grade Athletes)
Combines adavanced offensive skills and shooting and scoring workouts into one workout.

Next Level Skills Workouts (2nd-8th Grade)
The Next Level Skills Workout is for skilled athletes that are serious about improving! This new high rep workout is limited to 12 athletes only. The workout will incorporate a progression of ball handling, shooting and finishing drills, full court transition drills and passing.

Competition Only Workouts
The Warwick Workouts Competition Workout is for skilled athletes looking for a competitive style workout. Participants will compete each week in the areas of 1 on 1, 2 on 2, 3 on 3, & full court 5 on 5. This workout offers an opportunity to improve through high reps in a competitive situation. Limited to 24 athletes per session.


Summer Camp Options


Elite Offensive Skills Camp (High School – College Athletes)
Warwick Workouts Elite Basketball Camps are the most intense skill development camp in the Midwest. It is designed for players looking for a challenging position-orientated camp and emphasizes the development of advanced offensive basketball skills. This is an invitation only camp with high caliber athletes attending from all over the country. College coaches attend the Elite Camp to evaluate athletes in a skill development setting along with head-to-head competition.


Advanced Offensive Skills Camps (8th grade – High School)
The Warwick Workout Advanced Offensive Skills Camp is designed for players looking to enhance and expand their skill set. The camp has a session focused on shooting, including the shooting program and pro-shooting series. Advanced ball handling concepts are also taught throughout the camp.


Rising Stars Camps (Kindergarten – 8th Grade)
Warwick Workouts Rising Stars Basketball Camps are highly concentrated offensive skill development camps designed to challenge each athlete at their respected grade level. Athletes will learn the foundation of basketball starting with the ball handling, shooting technique, repetition in shooting through multiple shooting and finishing drills. These camps are for the player who is truly interested in becoming a skilled athlete.

Lights Out Scoring Camps (2nd-12th Grade)
Lights Out Scoring is a fast paced camp designed to help athletes become a consistent "lights out" scorer. This camp offers a variety of shooting and finishing drills, specific shooting challenges, and live sitations. Throughout the camp players will attack defenses, shoot off the dribble, finish around the basket, and work on read and reacting to the defense.

Junior High Elite Camp (6th-8th Grade)



Next Level Skills Camp (5th-8th Grade)
The Warwick Workouts Next Level Skills Camp is for athletes that want to improve as a player on BOTH sides of the basketball. This camp will focus on the game of basketball as a whole, both offensively and defensively. This camp will look to get athletes out of their comfort zone with ball handling, finishing, and shooting drills. The Warwick staff will work on full court transition drills, competitive 3 on 3 and 4 on 4 situations, and rebounding drills. Next Level Skills camp will also breakdown defensive concepts such as how to properly guard the ball, where to be in help side, and proper close outs. This camp is designed for athletes who want to take the next step as a complete basketball player.

2 or 3 Day Clinic at your School

Coach Warwick and his staff travel throughout the United States and over-seas to bring high quality training to your program. Warwick Workouts will customize a camp for the needs of your program in grades K-12.
Individual and Small Group Workouts


Warwick Workouts offers individual and small group workouts for athletes (4th Grade to College/Professional Athletes) wanting to work on specific aspects of their game with a trainer at the Avera Sports Center. These workouts are designed to meet the specific need of the athlete, small group or teams in a 45, 60 or 90 minute workout. All workotus will be schedule through Kris (605) 391-6700. Click here to see Individual/Small Group pricing.